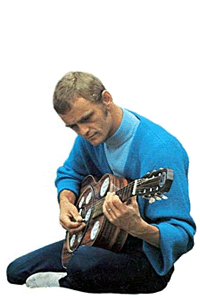 Earlier this week, Atlanta, Georgia's own Jerry Reed passed away at 71 years old. To a lot of folks, Reed was a fixture in Burt Reynolds movies from the mid-seventies to the early eighties. But my strongest recollections of Reed go back a little further, when he was still known primarily as a musician.
Not just any musician, either. He wrote songs that were made hits by Gene Vincent and Elvis Presley. He was a crack session guitarist. He had a more-or-less string of hits of his own stretching over more than fifteen years.
While Reed was a Nashville-based musician focusing on country, he enjoyed a few crossover success. One of them was the song I used to listen to at a very young age called "Amos Moses."
"Amos Moses" showed a lot of Reed's good ol' boy humor, and the lyrics used to crack me up. It's about a character who could be considered a Cajun version of Stagger Lee:
Now all the folks around south Louisiana
Said Amos was a hell of a man.
He could trap the biggest,
The meanest alligator,
And just use one hand.
That's all he got left cuz the alligator bit it!
Left arm gone clean up to the elbow!
Behind his country wit, though, was Reed's unmatched picking. He wasn't called the "Guitar Man" for nothin'. For this song he concocted an appealing blend of rock, country and swamp pop and did it with only an electric bass and drums to back him up. His maximal guitar work and his talking/singing narrative style did the rest.
Jerry Reed achieved greater fame elsewhere, but to me, "Amos Moses" was what the man was about. And now, heaven is going to have to make room for another guitar-playing great. He's certain to be making souls grin there right now as he's done here on Earth for more than half a century.

S. Victor Aaron is an SQL demon for a Fortune 100 company by day, music opinion-maker at night. His musings are strewn out across the interwebs on jazz.com, AllAboutJazz.com, a football discussion board and some inchoate customer reviews of records from the late 1990s on Amazon under a pseudonym that will never be revealed. E-mail him at svaaron@somethingelsereviews .com or follow him on Twitter at https://twitter.com/SVictorAaron

Latest posts by S. Victor Aaron (see all)