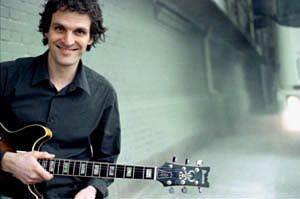 Used to be that whenever the term "Scandinavian jazz" would come up, one could summarize it by pointing to the sterile, pristine folk-jazz popularized by Jan Garbarek and the ECM label from the seventies on. In recent times, it's come to mean such a variety of styles and tendencies that the jazz scene there has become every bit as complex and nuanced as it is on American shores. Nowadays it can also mean the Nu Jazz of Bugge Wesseltoft, the indie leanings of the late Esbjörn Svensson or the anything-goes whack jazz of the Scorch Trio.
What they mostly share is a deft assimilation of American, Nordic and Continental influences that's typically both sophisticated and at or near the cutting-edge.
Danish-born, Swedish resident guitarist Torben Waldorff has been opening up another facet for Scandinavian jazz, one that finds as much in common with the current NYC jazz scene as it does with the jazz of his locality. While Waldorff cites many American blues and rock guitar legends like Jimi Hendrix as his main influences early on, he's since forged his own stamp on modern jazz while still retaining an appropriate smidge of his old inspirations.
These days, though, he's more apt to approximate Kurt Rosenwinkel, the guitarist who Waldorff comes closest to in terms of melodic construction and guitar tone. Which is to say, it's pretty advanced stuff.
This past spring, Waldorff put out the latest volume of his brand of modern jazz that's the followup to his widely-acclaimed Brilliance: Live at 55 Bar NYC from 2006. He calls this latest one Afterburn.
For Afterburn, Waldorff carries over his tenor saxophonist, bassist and drummer from Brilliance: Donny McCaslin, Matt Clohesy and Jon Wikan, respectively. For piano, Fender Rhodes and organ he also adds a top-shelf player in Sam Yahel.
Utilizing a method famously employed by Miles Davis, Waldorff laid out the basic melody and general direction to his bandmates but left it up to them to fill in the details. In doing so, he induced what he calls "beautiful mistakes." Of course, the mistakes are only beautiful as long as listeners don't notice these unscripted turns as mistakes.
What is noticed instead are the tightly-constructed compositions mostly written by Waldorff performed with some of the spontaneity of a jam session. It's almost like having it both ways. And that's where the real magic in these recordings lay. Songs do stretch out a bit, but never overly so. No one seems to be overly concerned about coming to the song, they're letting the song come to them.
Furthermore, there's a distinctive, highly melodic pulse throughout the recordings and it's centered on the intense chemistry between Waldorff and McCaslin. As fellow students at the Berklee College of Music back in the 1980s, their rapport is beyond telepathic at this point. The closeness of this musical partnership really reveals itself on tunes like the uptempo "Squealfish" penned by Joel Miller, which has some remarkable unison lines that seem to go every place imaginable except outside the underlying melody.
The odd-metered "Daze" has that same quality, too, but alternates with a more conventional, rock-based chorus. It's a mashing of two styles that melds together so well, it's not even noticeable.
"JWS" (see video below) is a sublime gospel-folk tune which Waldorff is content to let McCaslin take the lead duties and the saxophonist understated work fits the mood. But this is also a showcase for Yahel; his perfectly calibrated organ swells that give the song a huge boost show why he's one of the best organists in the business today and his solo is the right mixture of church and grease.
"Expresso Crescent" is an airy combination of Pat Metheny and straight bop and a fine showcase of what the players can do in a more conventional format. McCaslin in particular burns on this track but knows to avoid going over the top. "Skyliner" has some European qualities to the chord structure while being married to a rumba style beat.
Big band arranger/composer/leader Maria Schneider's "Choro Dancado" is covered here, which even as it's a scaled down rendering, still exudes an orchestral eloquence.
"Heimat," perhaps my favorite selection on the album, is a slowly unfolding tone poem that paces itself naturally. Yahel's electric piano is as thoughtful as the effort he puts into his organ playing while Waldorff's supplies an eloquent solo during which Wikan's sympathetic mini-fills accentuates to perfection.
"Eel Thye Deeflat" is slower-paced still, with a chord progression that is similar in style to some of Michael Brecker's ballads, but with a looser conveyance. The album concludes with Wikan's own "Man In The Black Hat" is darker, bluesy jazz that has interesting intricacies that serve make it more than just blues. McCaslin again rips on his solo turn while Waldorff provides stark relief with angular, pensive soloing.
Afterburn is one of those rare ones that does a great job combining musicality and technical eminence without compromising either. It's a real triumph for Torben Waldorff, and only enhances his standing as a composer, guitarist and bandleader of much distinction.

S. Victor Aaron is an SQL demon for a Fortune 100 company by day, music opinion-maker at night. His musings are strewn out across the interwebs on jazz.com, AllAboutJazz.com, a football discussion board and some inchoate customer reviews of records from the late 1990s on Amazon under a pseudonym that will never be revealed. E-mail him at svaaron@somethingelsereviews .com or follow him on Twitter at https://twitter.com/SVictorAaron

Latest posts by S. Victor Aaron (see all)