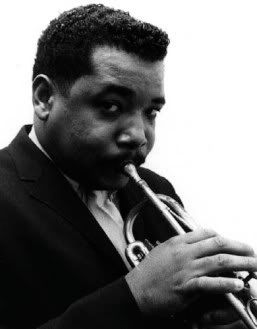 It must be tough to make a name for yourself as the little brother of such a towering figure in jazz as alto sax great Julian 'Cannonball' Adderley. Nat Adderley never did quite reach the legend status that his elder sibling did, but did manage to gain acclaim as a composer, cornet player and important cog in Cannonball's band. Nat would suppress his own solo career by steadfastly remaining at his brother's side in his group from 1959 until Cannonball died in 1975 (Nat himself passed away in 2000).
That's not to say that Nat didn't make any good records on his own, though, he's made plenty of them during and after his brother's lifetime. The one that's widely and justifiably considered his best was created in January, 1960, shortly following the beginning of his long tenure in Cannonball's band.
Work Song wasn't Nat's first album as a leader; he had by then made a handful of records sporadically since arriving in New York from Florida with his brother in 1955. Once the brothers signed up with Orrin Keepnews' Riverside label around 1958, though, his studio activity picked up. As a leader, Nat loved to experiment with unconventional formats. His 1959 Riverside release Much Brass saw Adderley construct a front line of his cornet, a tuba and trombone, for instance.
Nat's next project sported an even more unusual ensemble structure. Work Song's front line consisted of himself, a cello and guitar. It's this configuration that gives the album a unique feel that I haven't found on any other jazz record.
The cello was supplied by fellow Cannonball bandmate Sam Jones. The guitar was from none other than the just-emerging phenomenon Wes Montgomery (Note: in the same week Work Song was recorded, Montgomery was also recording his own masterpiece album The Incredible Jazz Guitar of Wes Montgomery).
Rounding out the core three on most of the tracks was Percy Heath or Keter Betts on bass, Louis Hayes on drums. Jazz Messengers pianist Bobby Timmons also contributed on four selections.
The lead-off title tune, of course, is the one even casual jazz fans will recognize. Covered by others hundreds of times over, "Work Song" became a pop hit for Herb Alpert and the Tijuana Brass in late 1966. In Nat's early rendition here, his slightly sharp but precise muted cornet states the familiar theme as a call-and-response with Montgomery and Jones' plucked cello. The rest of the band soon joins in and Nat, Wes and Bobby all provide concise, grooving solos.
There's plenty of other highlights on this record. Another Nat Adderley composition "Fallout" sizzles on the strength of Timmons' and Addrley's solos and a driving rhythm provided by Hayes and Betts. Jones' own "Scrambled Eggs" is also a hot number that features more of Jones' funky cello work.
Cannonball's "Sack Of Woe" debuts on this record and it's a very interesting take in that it's played more like an Elvis Presley rock 'n' roll tune in parts than a jazz tune. Imagine that, rock-jazz fusion back in 1960!
Two of the ballads, "I've Got A Crush On You" and "Violets For Your Furs," are rendered sensitively with just the core trio. Both songs are fine demonstrations of the tender side of Montgomery's playing, which doesn't usually get the mention that his more up-tempo playing does.
This past June, Work Song was reissued in remastered form as part of the album's producer Keepnews' continuing reissue project of classic and near-classic albums of which he oversaw the original recordings. As usual, Keepnews' updated liner notes puts you at the recording studio with some legendary musicians and gives you a taste for why the sessions were so challenging and yet so magical at the same time.
The title song quickly became a staple in the repertoire of Big Brother's band. Here's an early televised rendition of this song as performed by the Cannonball Adderley Sextet, which included the Adderley brothers, Hayes, Jones, Joe Zawinul and Yusef Lateef:

S. Victor Aaron is an SQL demon for a Fortune 100 company by day, music opinion-maker at night. His musings are strewn out across the interwebs on jazz.com, AllAboutJazz.com, a football discussion board and some inchoate customer reviews of records from the late 1990s on Amazon under a pseudonym that will never be revealed. E-mail him at svaaron@somethingelsereviews .com or follow him on Twitter at https://twitter.com/SVictorAaron

Latest posts by S. Victor Aaron (see all)