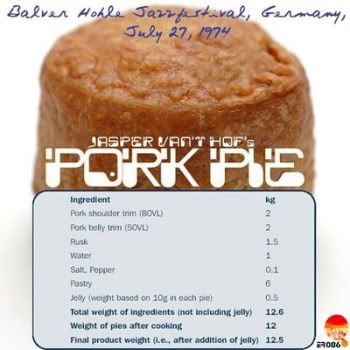 by Pico
Jazz fusion records from the 1974 time frame are almost always going to fall into one of two categories: a few that are truly great but overly familiar, or, more frequently, simply forgettable. Transitory by Pork Pie is a unique one from that period in that it's both outstanding even today but largely overlooked. The second part is due to having not been released in digital form, but that problem was remedied with the inaugural CD release this past July 29. That provides the occasion to re-examine this lost classic of vintage Euro-fusion.
Transitory was the first album by the short-lived outfit Pork Pie (named for jazz saxophonist hall of famer Lester Young). Pork Pie was a European-based supergroup led by its youngest player (27 at the time), the highly imaginative Dutch keyboardist Jasper van't Hof. Prior to putting together this first serious effort as a leader, van't Hof had gigged with George Gruntz, Archie Shepp and Jean-Luc Ponty.
The band's guitarist, the Belgian/English guitarist Philip Catherine had similarly played in Ponty's band during the early seventies. By the time he signed up with Pork Pie he was already acquiring a reputation as one of Europe's foremost versatile jazz guitarists.
At 51, Boston-born Charlie Mariano was already well-established as one of the more prominent early Parker disciples while playing alto sax for Stan Kenton and Charles Mingus. By 1974, he could have easily coasted on that reputation, but Mariano had a restless spirit that matched even Miles Davis'. Mariano first studied the culture and music of India and the Far East before settling in Europe by the time Pork Pie was forming. Amongst a group of young, just emerging musicians, Mariano was the clear marquee heavyweight player in the group.
The band was rounded out by lesser-known but no less talented players: Aldo Romano had by this time—along with Han Bennink—become the premier free jazz drummer in Europe. J.F. Jenny-Clarke was better known as a first-call bassist in the classical field. Both were tied together by their association with the earlier, fiery version of Gato Barbieri.
The group was supplemented on certain tracks by Ivanir Mandrake, a major figure among Brazilian percussionists.
Even with this lineup, there was no guarantee that they would mesh; many times with these summit meetings the whole is less than the sum of the parts. Not in this case.
Transitory leaves the lion's share of the solo space to Mariano, but it's a collective feel, nevertheless. The sprightly "Epoch" kicks off the session, where group shows right off that they're not sticking to the common jazz-rock script. While "Epoch" stays on course with it's steady rock beat, the improvisional passages nearly veer off into free jazz territory. The solos begin with a burning alto sax solo by Mariano that shows he means business. Van't Hof follows on electric piano that's every bit as creative as what Corea and Hancock were doing at that time.
"Epoch" suffers a tad from a tinny sounding mix (as does the ironically titled "March Of The Oil Shieks" that ends the album), even if they are good tracks. Thankfully, though, the rest of the album didn't have even that minor flaw. Incredibly, everything within the bookmarks has dated hardly at all.
Much of the credit for Transitory's overall timeless quality goes to the leader. Van't Hof refrained from using synthesizers, overdubs and too many keyboard effects that were become increasingly popular in fusion by this time. The eulogistic "Transitory 1" and "Transitory 2" demonstrate how just van't Hof, Mariano and Jenny-Clarke (on cello) were able to approximate a symphonic sound with a remarkable resemblance.
"Angel Wings" is Catherine's composition and is the only real showcase for his soloing talents. Sounding very much like a classic Ponty fusion tune, Catherine provided a inspired, concise, well-constructed solo that set him clearly apart from the other jazz-rock guitarists of the mid-seventies.
The brief "Something Wrong" refers to it's deceptive, odd metre count which despite the tricky time signature, still manages to sweetly swing. The two-part "Bassamba" is first a full-on display of Jenny-Clarke's bass soloing prowess over a samba beat. Eventually, the song transitions over to a collective samba rhythm by the whole band on top of which Mariano expertly plays his alto sax. It's a samba done in a more contemporary fashion without losing any of the spirit of the more traditional, acoustic samba.
"Pudu Kkottai" is perhaps the most astonishing number on the set, at least to Western ears. It's a traditional South Indian melody and it's here where Mariano pulls together his appreciable palette. Using a complex combination of rhythmic patterns of 5/8, 5/8, 4/4 and 3/4, van't Hof easily navigates through it while Mariano starts with a bamboo flute, then switches over to a nagaswawram (an oboe-like instrument indigenous to South India), before ending up with a soprano sax. Charlie's acumen on the first two instruments belies his Boston nativity, but when he switches to the soprano, he manages to blend in his Parker-isms in such a way that fits this old Subcontinent tune like a glove. It's East-meets-West that exceeded even what Weather Report had achieved in that vein up to that time, and I can imagine it made Joe Zawinul run back to the drawing board after hearing it.
Like a long lost treasure chest washed ashore on the beach, the CD release of Transitory gives a newer generation of jazz fusion fans a rare treat of music that was full of fresh ideas and purposeful musicianship from a time when the first wave of this genre had largely run out of gas.
Jasper van't Hof and his colleagues showed that there was still room for this music form to grow for hyper-talented musicians. All that was needed beyond that was an open mind.