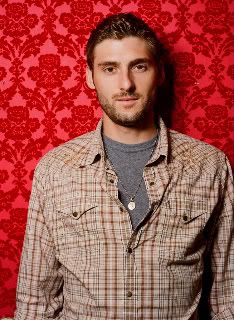 It should probably be no surprise to anyone who is remotely familiar with us, but we here at Something Else! are not what you'd call avid watchers of MTV. Evidently, neither is Crosby Loggins; he was asked to be a contestant on their show Rock The Cradle three of four times before he finally agreed to sign up for it. (For others who don't follow MTV, Rock The Cradle is like American Idol, except that the contestants must be offspring of rock stars.) And last February, he walked away with the prize.
For impressing the judges, the seed of Kenny wins a major label record contract, and according to his website, Crosby is currently laying down tracks for his Jive Records debut.
This won't be his all-time, debut, though, because that already came out just last fall. We All Go Home was a solid first step forward; Loggins put together a good-to-great set of songs, shared in the sturdy production and was backed by his crack band of young Middle-Californians, The Light.
A recording by a twentysomething newcomer to rock wouldn't normally get our attention, even if we might have dug some of his dad's music back in the day. But Crosby has picked up a lot of good tips from his old man and some of his better-known buddies, as well.
The music on his first album makes a lot more nods to the MOR singer-songwriter pop music of the seventies and eighties than it does to the early 21st century indie rock. The younger Loggins adeptly blended in rock, folk, jazz, funk and even gospel. I also love how he prefers to give the solos to his violin player, Paul Cartwright, than to a guitarist. There needs to be more violin in rock, dammit.
Crosby's singing I like just fine, too. Most of the time it sounds like Peter Gabriel or Phil Collins without the British accent, sporadically resembling Boz Skaggs with occasional hints of Crosby's father.
One of the standout tracks from Home is the fourth one, "Man In The Middle." That jazzy chord progression that kicks off the tune reels me in from the get-go. That might be the influence of Loggins' co-writer for this song, jazz keyboardist and The Light member Dennis Hamm.
Loggins' pipes show off a real soulful side, on a song that starts as a quiet ballad keyed by Cartwright's sweet-sounding fiddle. The tempo picks up to a rollicking pace on the chorus before returning to the slower verses. Each visit to the last chorus gets a little more intense that by the third go around, Cartwright is locked in a dual with Jesse Siebenburg. The song bows out with the same elegance it started with, though.
So, after listening to We All Go Home and songs like "Man In The Middle" in particular, it shouldn't be too astonishing that he beat out the other children of rock for a shot at mainstream glory. Dear Ol' Dad is undoubtedly proud.
Crosby's father can rock and roll…and so can Crosby.
"One Track Mind" is a more-or-less weekly drool over a single song selected on a whim and a short thesis on why you should be drooling over it, too.

S. Victor Aaron is an SQL demon for a Fortune 100 company by day, music opinion-maker at night. His musings are strewn out across the interwebs on jazz.com, AllAboutJazz.com, a football discussion board and some inchoate customer reviews of records from the late 1990s on Amazon under a pseudonym that will never be revealed. E-mail him at svaaron@somethingelsereviews .com or follow him on Twitter at https://twitter.com/SVictorAaron

Latest posts by S. Victor Aaron (see all)