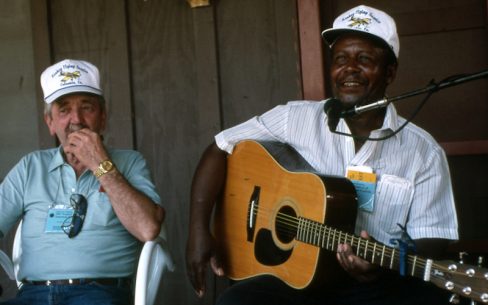 Po' Henry and Tookie grew up, practically, as neighbors. But strangers, all the same.
Tookie Collum was the youngest of the two — a white kid, born in 1937 to a migrant oil field worker. Henry Dorsey was one of nine children, and would go on, in fact, to have nine of his own. Born in 1928, he was the child of African-American sharecroppers.
Their lives, long before they became known as Henry and Tookie, were as different as the hue of their skin. Yet their stories were inextricably linked. They lived in in the northeastern Louisiana town of Rayville for years, Tookie says, and never knew each other very well. Never knew, for instance, that they both had an interest in the Delta blues.
At the age of 10, Henry taught himself to play guitar. Only, it wasn't a guitar really. It was a piece of wire stretched from a nail on the side of the house. He'd stick a Coke bottle under it for tuning purposes. To this day, Tookie says Henry can only play if he's not looking at his hands. One glance at the neck of the guitar, and Henry loses his place. "That's very unusual," Tookie says.
And while Tookie's interest in harmonica was from his pre-teen years, he didn't really learn to play it well until about 1960. "I had trouble picking it up," he says. Hours of listening to the hard-bitten cries of harp-great Little Walter, the famous Muddy Waters sideman, ironed out the kinks.
Round about the mid-1980s, word reached Tookie that this guy — a guitar player who sounds something like Lightnin' Hopkins, but from right up the road — was looking for a playing partner. Henry and Tookie have been playing together as a duo ever since.
They started small, playing small family gatherings, then festivals, then sold-out shows. "We were just playing because we enjoyed it," Tookie says. Before they made their first appearance — at a Baton Rouge roots-music event — "Henry had only played before perhaps eight people," Tookie says.
That Baton Rouge show, so long ago, was a memorable challenge: "He was scared to death, which I understand," Tookie says. He played his way through it, after a time. "Bottle courage," Tookie says, simply.
These days they're practically family at places like the New Orleans Jazz and Heritage Festival and Enoch's in Monroe — where they have opened for a series of legendary acts over the years, including Sam Myers, the Preservation Hall Jazz Band and Clarence "Gatemouth" Brown. In some ways, the low-key Po' Henry and Tookie prefer the introductory gig, though they have always deserved their own spotlight.
Tookie understands their signature anachronism, and worries how that will play to a modern audience. "Nobody does what we do anymore," he says. "People who play around here don't play in the old Delta style." Its style of stop-start syncopation, and 12-bar genius — with lyrics soaked in grim determination and gripping sorrow.
As different as they were, they spoke in the same vernacular.
"We're not a dance band," Tookie says, simply. "It's not really dance music."
Time in between gigs is spent at home. They developed a legendary Wednesday night practice event in Rayville early on, but it was never publicized. People came over anyway, and the picking was divine. "Sometimes people show up," Tookie said at first, "sometimes they don't."
The same can't be said for the elemental, soul-lifting Po' Henry and Tookie — one thing that has remained ever constant, like the timeless music they play.